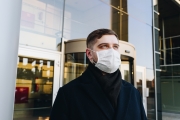 Publication date: 1 November 2020
Crises teach us to look at our lives through different eyes and unveil structural flaws. The pandemic accentuated structural disparities and stress-tested solidarity between people and between nations, solidarity between healthy and sick, old and young, and rich and poor.
In this paper, we discuss how COVID-19 makes existing economic and societal vulnerabilities more pronounced. These vulnerabilities stem from, for example, weak strategic positions in international supply chains and platforms, imbalances in social security systems, and limited labor market mobility. None of these issues are new, but the pandemic is now forcing us to act without delay.
This transformation requires an assertive and shaping role from government, as markets need guidance to steer toward secure, green, and inclusive solutions. But it is not the sole responsibility of the government to lead the way: it is the collective duty of all politicians, business leaders, NGOs, civil servants, and academics.
Read the paper here: Together shaping a more resilient, sustainable, and cohesive society after COVID-19
---
This paper was written in preparation for Dutch Transformation Forum 2020. Together with the video below, it formed the start for the conversations.