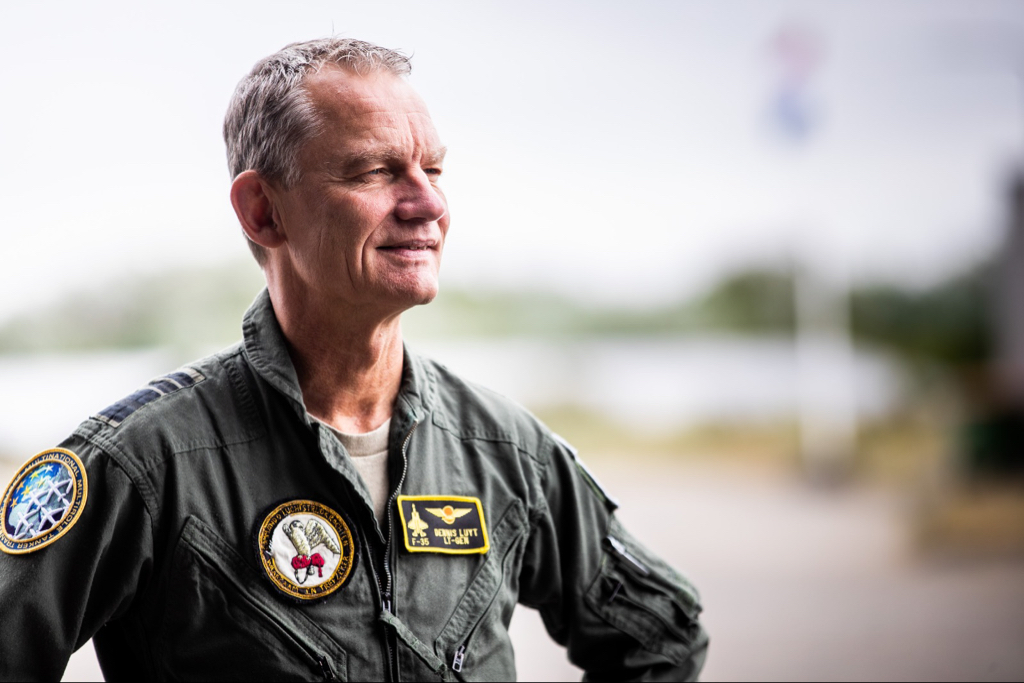 This article is published in Dutch in the TF Magazine 2023-1, you can find it here. It has been translated using AI technology.
'Change doesn't happen in the boardroom'
In flight overalls, called "the pajamas" in the corridors, Dennis Luyt welcomes us to the Air Force tower in Breda. We speak to him in the middle of a period of conversion to state-of-the-art new equipment, but behind him, in a display case, the past is honored. For example, there is a bust of General Cornelis Jacobus Snijders, the booster of military aviation in the Netherlands at the beginning of the last century. Also hanging there is the Air Force banner with the cravats, a kind of pennants, on which the completed missions are listed. Luyt himself carried the banner during a ceremony on Veterans Day last summer. There, the king presented the cravate for deployment to Afghanistan. With Luyt having received functional age resignation as of April, this will now fall to his successor, André Steur.
The Air Force is in the midst of transformation. Almost all the equipment is being replaced. The F-16s are making way for F-35s, three of the four helicopter types are getting advanced successors, there will be new transport aircraft and the first unmanned reconnaissance aircraft, the Reaper, has been put into service. The organizational structure is also undergoing a shake-up. Not the ten air bases will soon form the hub of the organization, but four commands. 'We are building a next-level air force based on fifth-generation weapon systems,' Luyt summarizes the changes. 'At the heart of it is that we no longer operate with a piece of iron with which to deliver a blow, but with smart digital equipment.'
'A next-level air force is being built based on fifth-generation weapons'
These changes in equipment and organizational structure have profound implications for employees. For example, recruitment, selection and work in the Air Force are going to be done differently. That process is now in full swing.
How do you begin such a process?
'By being clear. Telling what we are now, what we will be soon, and what the journey towards that looks like. We started doing that in 2017 by creating a roadmap together. We then defined thirteen building blocks, a nice lucky number. These include digitalization, a new HR policy and a different organizational model. When you've fixed all those building blocks, you've come from one side of the pond to the other.
How did people react to the plans internally?
'At first, people found it exciting. The special thing about the Air Force is that we are a very traditional organization with clear command structures. At the same time, there is always the realization that what is good enough today is not good enough tomorrow. You already notice that at the level of missions. Before a mission we always ask the question: what do we set ourselves as goals, and what do we want to learn? Afterwards, we do a good debriefing to see if we succeeded. It is no different with such an organization-wide transformation. It is however noticeable that some need a push and others need space.'
Is there room for that space?
'Yes. We in the Air Force are used to working autonomously in small teams. When you fly in formation, rank and file don't matter. Then a lieutenant can tell me the unadulterated truth afterwards. During missions like that, we are not hierarchical. The same is true in this transformation. If you formulate the why and the what well, you can very well leave the interpretation to the people themselves. '
Can you give an example of this?
'We wanted to enrich data, to increase our predictive capability. There was nothing here like that yet. We then put a club of employees together with experts from KPN in a building outside the organization. We gave them a bag of money and ten problem sets and said: we'll come back in six months. All this time we didn't interfere with anything. It was amazing how far they had come. Based on their work, we can now predict noise complaints, for example. From now on, we ring people's doorbells in advance and say, "Madam, you don't know yet, but then and there it gets a little noisier here." Then you're at the front end of the problem instead of the back end. We can also plan maintenance better now. We have much more insight into what breaks down when. This is typically something we knew was in there but needed space.
Has the transformation also affected your own performance?
'Yes, it has been a nice journey of discovery for me as well. I've learned that you don't have to be on top of everything or know everything best yourself. Above all, you have to create energy and encourage people.'
How did you master that?
'By trial and error. It's actually not in my nature, nor is it typical of the Air Force. As an organization with a force mandate, we benefit from a lot of control. You don't want to leave anything to chance in our operational missions as fighter pilots, things have to be right down to the second. But both the new technology and the new generation of personnel require a different approach. I see it in my children: they like work when they are given leeway. Something doesn't have to succeed right away, as long as they learn from it. The trick, I have learned, is to let things happen from trust.'
Is that also possible in the short term, for things that have to happen quickly and efficiently?
'That always remains a struggle. This week, F-35s had to go to Poland to defend the airspace on NATO's eastern flank. The day after the Russian invasion of Ukraine, we also immediately flew F-35s, F-16s and tanker aircraft in that direction. You then have to be able to deliver in one day. That remains our strength. But even with that, we say to the commanders: this is the intention, but it's up to you how you do it. But it's no easy job to keep the transformation going at the same time.'
Has the transformation been delayed by the war in Ukraine?
'No, that's the special thing. Especially since we were struggling with vacancies and Covid at the same time. We responded to the latter immediately, partly by strictly separating teams. I hardly interfered with that either. It's amazing what such a club of people is capable of. Although it's not a big pink cloud either. You do have to be clear in your intentions and keep talking to each other.'
Are they used to that in the Air Force?
'Not everyone. So we deliberately made room for dialogue, so that even people who don't talk easy could speak up. By being present a lot, I contributed to that. I still regularly visit squadrons and sometimes fly and tinker with them for a day. Then you hear a lot, including unvarnished opinions. The average airman has his heart on his sleeve. It's still a balancing act though, because I can't lead during that time. In the boardroom, you can easily spend a whole day doing important things. But that is not where the change takes place. By being visible in the workplace, I help the change more.'
'I still regularly visit squadrons and fly and key with them'
Recently, the up-and-coming generation has its own voice in the Air Force. In 2021, Young Lumara was established, a shadow body that functions under the Air Force Council (Lumara), the highest body of the armed forces component. Solicited and unsolicited, Young Lumara members can offer advice. The fact that there is a long waiting list for it shows how strong the desire is among young people to participate. 'We, older people, are still very much stuck in being a fighting force,' Luyt says of it. 'The young people emphasize that we need to take responsibility in other areas as well, such as around sustainability.'
Young Lumara's suggestions include making air bases energy neutral and electrifying the vehicle fleet. Partly as a result, Eindhoven Air Base has been given a solar park. 'That also provides power to the neighboring neighborhood, so we immediately create support in the area.'
As part of the transformation, a diversity plan was also created. The tight labor market and the new equipment demand it, says Luyt. In addition to fresh and varied inflow, more challenging career paths are needed. The problem is that the Air Force cannot operate autonomously in this area. 'Defense's personnel system dates back to year zero,' Luyt says of it. 'It's very traditional, you can't use it to respond to the customization that the current generation demands. For example, we would like to reward more on the basis of knowledge and development rather than on the basis of rank, but that is not possible now. We are talking about that now Defense-wide and with the unions. Fortunately, pilots are possible, because in these you have more leeway. For example, we have commanders experimenting with local recruiting, selection and training. That's power to the edge, and that fits the transformation.'
In doing so, the Air Force is also seeking cooperation with the market. For example, Randstad and Manpower Group are now helping with recruitment. 'We have to become more creative, and sometimes you need other parties to do that,' says Luyt.
Will the collaboration with stakeholders be different because of the transformation?
'We used to outsource things we couldn't do ourselves. Now we address that more by partnering. The collaboration with KPN and with Randstad and Manpower are good examples of this. That is exciting, you accept that you are dependent, but it is also a way to learn. In partnerships we try to build new pieces of the air force, for example by starting joint start-ups. We then scale up such initiatives internally.'
We come to talk about his position, Commander of the Royal Netherlands Air Force. Can you call him the CEO of the Air Force, and is that comparable to being CEO of a large company? 'Yes, it is. With 8,000 men, we may be a small armed forces component, but we are a versatile executive and learning company, with many different components and branches in all kinds of countries. We are on many bases abroad and have a large footprint in the US. So you can perfectly compare us to a multinational company.'
Could you run a multinational company?
'I don't know. I always tell my people: you can do more than you think. What I have learned here I can apply anyway in a transformation elsewhere. What I will do next I don't know yet, but in any case I want to share my experiences in operationalizing a change strategy. Helping organizations move forward has always been my motivation. I am now working on a program for supervisors and commissioners at Erasmus University. As part of that, I'm walking around a hospital; that's a great experience. But I want to catch my breath later, have quality time with Nicole, my wife, and with my first grandchild. With a smile: 'Other than that, I'm growing my hair out, going to play guitar and buy a campervan. After that, we'll see.'
What kind of leader are you?
'I hope they see me as someone who has really taken the Air Force a step forward. Not from an ivory tower but as a booster and by bringing focus. After the cuts, there was a lot of negativity and noise. Experiments, such as the move into the space domain, we had to pay out of our own pockets. That was often rowing against the current, but we did it. I've brought more entrepreneurship into it, and I hope that with the wider budget that's there now, they'll continue with that.'
What is the fire that burns in Dennis Luyt?
'I like helping people. And I like taking people and organizations across the pond. I was stuck with my nails on the edge of the cockpit until someone said, "Luyt, you can do other things, too. With slight reluctance, I was then put into a staff job. At one point I was responsible for all defense plans. I sometimes thought: I can't do this at all, but then you notice that there is a whole team behind you that helps you to do it together. Gradually I discovered that I was capable of much more than I thought. Actually I am an operator pur sang, it is unique that I could  step out of my comfort zone like that. Very few organizations can do that.'
What advice do you have for your successor?
'I hope the foundation is solid enough to let him define the other side of the next pond. The future is fuzzy, but at least the Air Force is moving into space. There will also be an increasing combination of manned and unmanned flights. Furthermore, there is plenty to do to continue to attract talent to the Air Force. André really doesn't have to be bored…'
---
The Royal Air Force and Dennis Luyt
The Royal Air Force together with the Royal Army, the Royal Navy and the Royal Military Police make up the Dutch armed forces. It employs more than 8,000 people. Its motto is Parvus numero, magnus merito (Small in number, great in merit). Lieutenant General Dennis Luyt (1963) participated as a fighter pilot in such operations as Operation Deny Flight over the former Yugoslavia. In 1989 he had to eject to safety at Leeuwarden Air Base after a training flight with his ejection seat. After holding various positions at Defense, he became Commander Air Force in 2016.